Town Theatre Youth present
Saturday, December 14 at 3 pm and Sunday, December 15 at 3 pm
Join 50 of the Midlands' most talented young people as they present the classic musical tale of Cinderella. It's complete with the Fairy Godmother, Prince Charming, those mean ugly stepsisters and those charming mice -- and features well known songs including "A Dream is a Wish Your Heart Makes" and "Bibbidi-Bobbidi-Boo." Town Theatre's Youth production is directed by Jamie Harrington and will be enjoyed by the whole family.

And, in Town's fashion, we are also partnering with organizations to assist in their fundraising. Saturday, December 14 will feature The Greater Columbia Children's Choir in a musical presentation of holiday music. Sunday, December 15 will feature the Proud Townie Christmas Spectacular performed by Town Theatre's musical theatre dancers whose performance will benefit the South Carolina Bar Foundation Children's Fund. Each of these presentations is included in the $10 ticket price. (These organizations will receive 50% of each $10 ticket to assist with their worthwhile projects. In more than 13 years of this type of collaboration, Town Theatre has given back more than $60,000 to its community partners through this holiday program.)

But, it just keeps getting better! The grand finale of each day's performances will be the entrance of the "Big Guy" himself – Santa Clause! Each child in attendance can visit with Santa and have his/her picture taken -- at no additional cost. These photos will be sent electronically to the recipient, compliments of Town Theatre.
All tickets $10 General Admission – on sale now!
Call 803-799-2510 to reserve yours!

Oliver Twist
This spring, the Town Theatre Youth are going to steal your heart with the musical adaptation of
Oliver Twist. Your kids will have a blast with the classic Charles Dickens' tale. Young Oliver Twist finds adventure and intrigue with Fagin, Bill Sikes, the Artful Dodger, Nancy and all the other young street urchins.

Classes will begin on Monday, January 13 and meet weekly through March 13. You meet with your class one time each week. On Saturday, March 15 all students will meet together to begin the final rehearsals.
March 15, 17-22 and 24-28 will also be mandatory rehearsals for ALL students. The shows will be March 29 and 30 at 3 pm.
Registrations begin Monday, December 9 at noon.
No registration forms will be accepted before noon on that date.
Please click here for an enrollment form
Town's Youth put on a wonderful public performance of
The Jungle Book – The Musical on Saturday, July 27th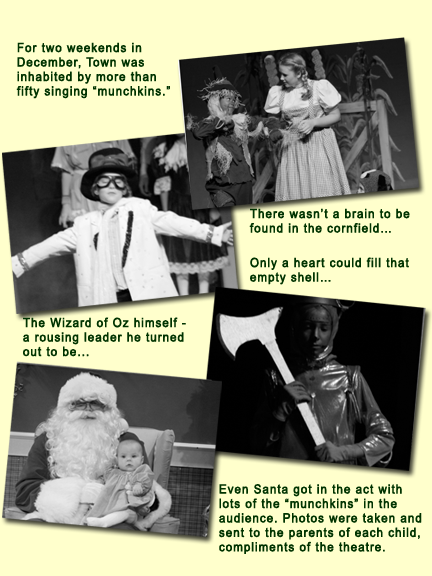 Youth Theatre Sponsor